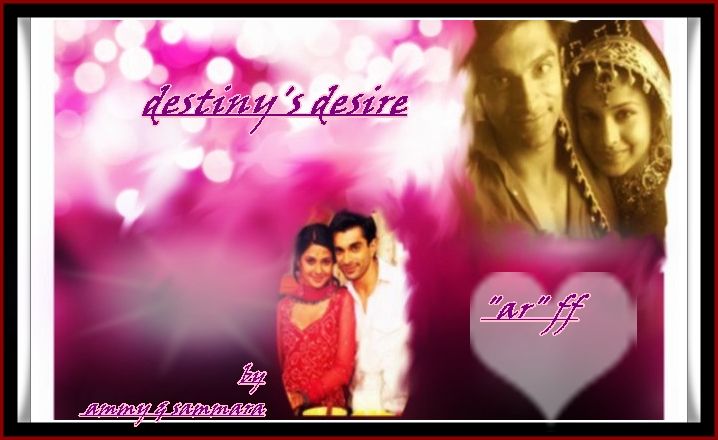 Hey guys how r u all??? Sorry for the late ud.. But we were really busy..now have ud for u all so pls read n comment..hope u enjoyed the last part. And also we have replied to all ur comments and really appreciate them....
Armaan's mom n dad leave and so do armaan n Riddhima to go to their new appartment in mumbai..
In the car.
Armaan n Riddhima are very quiet so ammy puts on the radio n turns the music up high
Ridzi: behre ho kya. Awaaj neeche karo na
Ammy: main tumhara servent ho kya ... Nahi karoongaa.. Kya kar longi
Ridzi moves her hand to the voice control.n turns the volume down.
Ammy: how dare u??tumne meri baby ho haath kaise lagaya
Ridzi: aisa
She touches the car again ..
Ridzi: tum bohot stupid ho. Drive teek se karo na. Nahi toh accident ho jayga
Ammy: atleast main toh bach jauga.
Ridzi: Oh shut up Armaan !!! Aur ghari challa nahi aata toh challate kyun ho
AR argue for ages until they get tyred and riddhima falls asleep
Armaan who was concentrating on the road ahead pulled to the side of the road for a little break.. side of the road for a little break...
He stopped the car and looked left towards Riddhima who was sleeping very peacefully sleeping very peacefully
He smiled...for some unknown reason
Ammy: Soh te hue kitni angel dikhti hain... Aur jaagti hain toh bilku churail ki jaise. He saw a strand of hair in her face which was disturbing her
He went forward and moved it to the side of her face
RIddhima heard something and awoke...
Ridzi: Kya hua?? Hum kyun ruke yahaan??Hum ponch gaye hain kya?
Ammy: Haan hum ponch gayye na.. Ghar yahin pe hain na road pe Dekho vaha pe hamara kitchen hoga.Phir rooms..
Ridzi: TOh yaha kyun ruke..Ghar kal ponch na hain kya??
Ammy: Main bas ek break le raha ta..Yeh nahi karsakta kya?
Ridzi: Nahi ab challo...
Ammy: THik hain teacher
Ridzi: Mujhe teacher mat bulaow. ok
Ammy: haan ur ryt. Tum to basket hona.
They drive to their new appartment in Mumbai, and come out of the car
They walk up the steps looking forward to the decor of their new house...
AR walk to the room door and Armaan slids in the key and turns the lock..
Inside they find the room a mess no decor no furniture nothing..
Ammy: GOd. mom dad ne kuch yaha pe nahi kiya...
Ridzi: Ab kya??Dekho vaha pe note laga hain,
Ammy reads the note.. Iss pe likha ta ki armaan ki mom aur dad ghar ka decor kuch nahi karpaye aur ye sab AR ko karna hain ek doosre ko acha jaan bhe sakengee
Ridzi: Oh no..Ab toh ghar main bht karna hoga..
Ammy: basket challo na...
Ridzi: kaha?
Ammy: bedroom main..
Ridzi: what... Armaann
Ammy: im jokin yaar.. i meant shoppin ghar ke liye..
Ridzi: tumhare saath.. main akele nahi jaa sakti kya
Ammy: oh hello. tum akele jaugi toh kya kya leke augi...Faltu samaan ki saath samaan ki saath
Ridzi: what faltu... shut up armaan.
Ammy: tumhara tag line hain kya. har waqt.. shut up armaan. armaaan... ya toh tumhe mera naam bht pasand hain...
THey leave for the shopping malll... which is very nearby
FIrst they decide to go to the interior designer who designes appartments for the newly wed the addresss ammy's mom had given
THey knock on the door...knock..knock
A man opens the door
Man: HEllloo...
Ammy: Hiii.. im Armaan.. me n my urmm wife are here for the designing of my i mean our house.my mum had rang
Man: haan she did. Aap MR & MRS MALIK haina ryt??
Armaan whispered to himself:Unfortunately
Man: im sorry aap ne kuch kaha
Ammy: haan yahi ki haan we r husband and wife..
Man: oh ryt.. challye andar...
THe man leads them inside the room and tells them to take a seat on the couch...
The man sits opposite them eyeing riddhima up...
RIddhima feels very self conscious and looks down
Ammy sees this and for some reason does not lyk it at all
Ammy: Ridzi babe scarf neeche karo bht tand haina yaha pe..
Ridzi whispers: babe kyun bhullaya... okkk...
The man takes some details from AR and then suddenly stops while writing writing
Man: Riddhima jee aap bohot khubsurat hain... aap ke yeh aankhen bht pyaari hain
Ammy: AHemm ... SHes my wife so can u pls behave..
Ridzi: thnk u jee...Very nyc of u
Armaan whispers to riddhima: flirt kyun kar rahee ho
Ridzi answers back: Tumhara kya jaayengaa...
The man interrupts.
Man: RIddhima jee i mean Mr Malik R U both sure ki aap log shaad shudaa hain
Ammy: haan.. we r sure...Aur aap yeh kyun pooch rahe hain?
Man: nahi vo Riddhima jee bohot choti umar ki dikh ti hain
Ammy: TOh kya main buddha dikhta hu
Ridzi: haan. i mean nooo They r choosin designs for the rooms..
Armaan pics the rockstar dude wallpaper n style of the room
And riddhima goes for a simple nyc warm room
Then jo hona tah vo hua. AR ki phirse jagda
Ridzi:Armaan we should go for this one kitna acha aur simple haina
Ammy: nooo waaayyy. I I think yeh wala... Rockstar one.
Riddzi: nahi armaan
Ammy: Haan
Ridzi:nahi
Ammy: haan
Ridzi: haan
Man interrupts, Kyun na aap dono rooom ko half karo..
Ammy: huh?
man:matlab half room rockstar ki style hoga aur doosra half simple sa sa
Ridzi: great idea thx
Man gets shy: thnk u jee
They sort out the rest of the stuff and r about to walk out the door
Man: RIdhhima jee mera card..
Ammy: thnk u..come on babe
Back at the house
Ridzi: Armaan mujhe babe kyun bhullaya
Ammy:ohh mujhe koi shok nahi hain n sorry par i did u a favour... tumhe uss larka se bachana para
Ridzi: Tumhe kya faraq parta hain?
Ammy: parta hain.. mom ne kaha mujhe tumhare liye yeh karna hoga...aur vo mom ko jaanta hain na
Ridzi: oh ok...
Then the interior designers come and decorate the house and aad the furniture jus how Armaan and Riddhima had asked.. After everything is done...
Ammy:Mujhe bohot bhuk lage hain..
. Ridzi: toh kuch kau
Ammy: kya kau. meri patni ne kuch banaya hi nahi hain meri liye
Ridzi: wht.. main tumhare liye kabhi khana nahi banaugi..Khud banau
Ammy: fyn. ill cook myself.. par tum mera nahi kha sakti...get it churail
Ridzi: tumne mujhe kya bullaya...main churail lagti hu tumhe. tum monkey ho monkey.. Aur ill cook my own.. ek kaam karte hain tum monkey ho monkey.. Aur ill cook my own.. ek kaam karte hain tum tumhara khana banau...aur main apna.dea
Ammy: ffyn deall.. aur tum churail hi ho..
Ridzi: shut up armaan
Afta a fyt they go off to the kitchen..
While ridzi prepars her indian desi food alloo gobi and paratha aur mutter panir.
And armaan makes his thai noodles..
.and some stir fry.
Armaan is at one side of the kitchen and riddhima at the other both in aprons... Armaan whifs something nyc in the air...
Armaan thinks to himself: * Wow basket indian khana bana rahi hain. mujhe khana hoga. kaise lu..challo beechare ki taarif karta hu phir vo allluu sirf mera hoga...*
Riddhima turns and sees armaan takin in the smell
She goes to Armaan to collect some salt. wheen suddenly riddhima's eyes falll on the pan. riddhima's eyes falll on the pan.
She goes back...
Ridzi to herself: * Yeh bandar thai food bana raha hain. i jus love thai... oh welll...*
Armaan comes to riddhima's side...
Ammy: urmmm...Riddhima tumhara khana bohot tasti lag raha
Ammy:pata nahi ta ki tum itni achi cook ho
Ridzi: armaan kya chahye... itni taarif kyun? Or vo hi tumse???
Ammy: vo im jus sayin i love indian desi khana u kno.Aur maine Thai banaya hain.ab kya karooo Thai banaya hain.ab kya karooo
Ridzi: urmmm... im a fan of Thai..
Ammy: Really... anyway i was gna share some with u anyway..
Ridzi: ohhh.really. ok... u can have some of my food.then
Ammmy: YES.. basket ko pata ke khana acha mila... wooohooo...churail maan to gay
Ridzi: kuch kaha..
Ammy: No. bas ke tumhe mujhe yeh sikhana hoga indian khana kaise banate hain
Ridzi: aur tumhe mujhe thai...
Ammy: SUre..
They then put the food in the plates and swap with each other..
Ammy: basket stop one min.
Ridzi: kya hua..
Ammy: vo hum dost nahi ban sakte kya...
Ridzi: actually ur ryt. shayid hum dost ban sakte hain...jus frendz.ok
Ammy: dont worry usske aage kuch nahi.. i know the typical lyn...
Ammy raises his hand forward and riddhima shakes it.. Now friendz...
They lay out the table and sit down to eat... They eat n chat and typical of AR argue over which channel on the TV to watch..
Then suddenly a letter comes thrugh the post
Ammy: basket letter.. go get it
Ridzi: main tumhe dog lagti hu. ke tumne kaha aur main gayi..Tum jau jau
Ammy: fyn...
Ammy collects the letter from the rug.. He opens it n reads
Ammy: oh nooo
Ridzi: kya hua??
Ammy: vo Sanjeevani se letter aaya..Vo hamare internship delay hogayi hain.. ab 2 weaks ke baad start hote hain hum
Ridzi: really... oh well... atleast we will have some tym to prepare
Ammy: true.. pehle baar samajhdari ki baat ki basket tumne
Ridzi: hawww... main hamesha samjdhari se baat karti hu
Now read our next ud which will b ud veryy sooon
Hey guys hope u enjoyed it...
This was part 5.
We will ud soon and continue.
so pls read, press like and pls comment and tell us what u think like
and pls comment and tell us what u think about this part...
And sorry again for the late ud. wont happen again
THX Love: AMMY & SAMMARA
Vote/Rate this Post