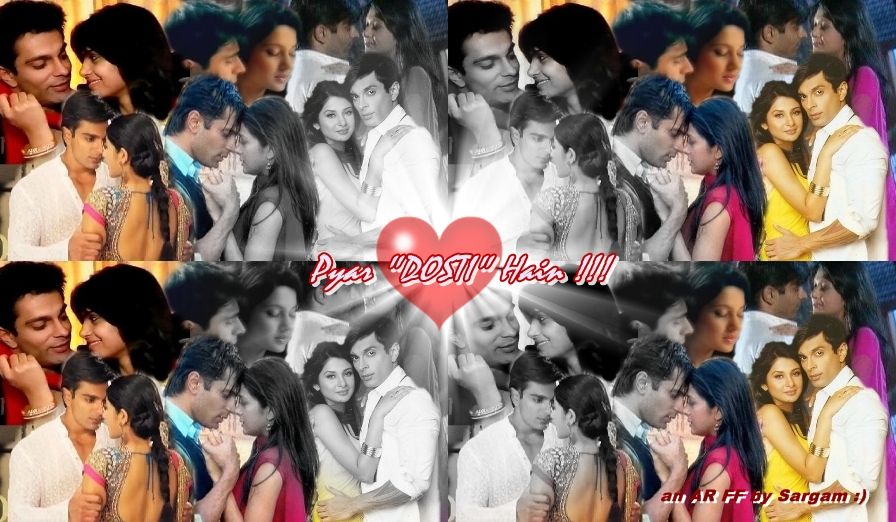 ~ Make Me Yours ~
Jaan... u r burning..
He panicked to know that riddhima got fever.. he withdrew his hand nd turned to leave to bring some food nd medicine for her when he felt her holding his hand.. He looked back nd saw her looking at him intently... He blinked his eyes in confusion.. he tried to understand wat her eyes were trying to tell him.. there was some thing new that he never saw before.. kuch to alag hain riddhi ki aankho mein.. par kya??
On the other hand Riddhima was staring at him with her longing eyes.. she was only craving for his warmth, his love, HIM.. She kept on holding his arm nd admired him through eyes..
RIDDHIMA IN HEART....
me tut ke sanam aise hee tujhe chahungee
teree aankho se kabhee dur nahee jaungee
kasam hai tujhko mere sajna mohabbat kee
mai sath phero ke sato wachan nibhaungee
Armaan finally realized wat new feeling her eyes were showing.. He found only madness, love, longing, craving and desire. His heart raced wen he saw her getting up from the bed nd coming to him slowly... Where riddhima was captivated by his eyes, armaan was also hypnotized by her eyes.. her eyes were only driving him crazy.. She stood in front of him nd placed her one hand on his cheek.. Armaan closed his eyes feeling her touch.. She didn't have any idea how much havoc she was creating within him... Soon he felt her hand caressing his cheeks, nose nd finally lips.. It was becoming more difficult to control his desires.
I love u..
She whispered nd bringing her another hand around his neck, standing on her toes, with other hand of hers still on his cheek, she started kissing his lips softly..
Her move simply bold armaan out.. but he was so shocked with her wild step that he didn't react for some seconds.. On the other hand, Riddhima, who was kissing him keenly, finally realized that he was not responding.. Being surprised, when she was about to withdraw her lips from him, the reality struck to armaan nd he pulled her overpoweringly into a wild kiss.. bringing her close around her waist by his one arm while other was continuously snaking up nd down along her back.. Riddhima also gave in as this was what she was craving for.. Both were out of their senses, kissing each other hungrily... They were running out of breathe, but were still trying to feel each other more.. Finally Riddhima broke the kiss nd gasped for air.. and with this armaan came back to his senses..
What the hell i was doing !! riddhi is not well.. she needs rest aur main...
Armaan thought nd became angry on himself.. He turned again nd started walking towards door.. After catching her breathe, she looked forward nd saw him leaving..
Armaan??
She asked confusingly... Here she was dying for him nd he was leaving her nd that too after wat had happened a minute ago...
He didn't look back.. but said..
Jaan.. u r not well.. i think we should (pausing a lill) wait for this..
Armi??
now its more difficult for armaan.. he always lost all arguments wen riddhima addressed as him "Armi".
jaan.. plzz.. let me bring some food nd medicine for u..
he didn't get any response but soon he felt her hugging him tight from behind.. For the second time riddhima opened her heart in front of him in her style which Armaan loves most..
Chod kar na ja tu aaj mujhko,
Dill mein aag si jal rahi hain..
Kuch kar na baithoon tere bin aye sanam,
Merey ishq ki junoon keh rahi hain..
And it was more than enough for Armaan nd as expected he gave in completely.. He was too dying for this moment.. he knew what had happened in the temple disturbed riddhima very badly.. the fear of losing her love drove her crazy.. other wise, its impossible to think a shy girl like Riddhima was trying to close to her love by herself.. although they are married now but they never shared any intimacy.
Armaan turned to her nd looked at her eyes..
tujhe pyar se dekhane wala,
tujhe apna samajne wala
ek dil hai , ek dil hee toh hai
meraa dil hai , meraa dil hee toh hai
He kissed her forehead nd she closed her eyes feeling secured..
tere liye sab ko mai aaj dilbar chhod ke aayee
rasmo ke kasmo ke sare bandhan tod ke aayee
She opened her eyes nd finally a lone tear escaped from her eyes..
dekho mai toh dekho sonie ko jab palke uthau
jindagee bana ke meree jan ko mai sanson me basau
Armaan brushed off the tear from her cheek.. nd hugged her warmly.. he started stroking her hair where as she cling onto him more tightly, as if she leaves him, some thing bad will happen to him..
tere ishk me dubnewala tujhe har pal dhund ne wala
ek dil hai, ek dil hee toh hai
meraa dil hai, meraa dil hee toh hai
Armaan felt her hugging him tight.. He patted her back lovingly nd breaking the hug she looked at him nd again confessed.... I love u..
aaja teree sunee sunee mang ko mai taro se bhar du
sajnee divanee saree umar abb mai tere nam kar du
Armaan smiled lill nd kissed her lips softly, promising her to be with her always..
saree duniya ko me toh bhul baiti baho me aake
aisa laga sab kuchh pa liya hai teraa pyar pake
Armaan took her in his arms nd started walking towards the bed.. Riddhima on the other hand placed her hands around his neck nd put her head on his heart.
tere khwab sajane wala teree duniya basane wala
ek dil hai ek dil hai ek dil hee toh hai
meraa dil hai meraa dil hai meraa dil hee toh hai
tujhe pyar se dekh ne wala tujhe apna samajne wala
ek dil hai, ek dil hee toh hai
meraa dil hai, meraa dil hee toh hai, aah dil hee toh hai
ek dil hai, ek dil hee toh hai
Armaan placed her carefully on bed nd carefully landed on the top of her.. He asked riddhima through his eyes for the last time as he knew she wasn't that well but in response she brought him closer to her entangling her hands around his neck.. Armaan settled his head in the crook of her neck nd started placing soft kisses there.. Riddhima, on the other hand, were running her fingers in his hair, arousing him more... Soon the passion got better of armaan as he started to love her madly.. Riddhima too was allowing him to come closer to her. She switched off the lamp kept on the table beside their bed as both lost in savoring each other..
~ to be continued
P.S -> Hello, every one.. How's the part?? Tried to write a romantic part for the 1st time.. don't know how romantic it has seemed to you.. plzz comment if i lifted up ur expectations or not.. as i'm not that good with romantic stuffs like you all.. very nervous with this part.. but on readers demand i tried ;) :D
@ Punam di... Di, I promised u to write an romantic os one day.. filhal romantic os to nahi par ek romantic part likhne ki koshish ki hain.. hope u liked it, di :) lotss of love
@ Rajani di.... Di, I wanna dedicate this new siggi to you for teaching me so patiently nd easily.. love u di
Now wanna say some thing to all of u that i'm pausing this ff here.. as its really difficult to think nd update all 4 ff s... i'll update it surely but not that soon.. hope u won't forget this one :P ;)
aur ek baat the lines in bold letter are lyrics of the song "Ek dill hai" from the movie "Ek rishta" but the lines in italic are not the lyrics.. that is written by me.. hehe.. so, accha nahi lage to plz don't be mad at me :D :)
Thank u every one.. 4 ur love nd support... :) :) Take care nd be happy always :D
With lotssssssss of love,
Sargam :) :)
Vote/Rate this Post