Riddhima nodded nd armaan left to call rahul.. when suddenly the storm started and some dust particles entered her eyes.. she closed her eyes at once.. nd started rubbing her eyes to clear her view when she felt some one coming near her.. smilingly but still rubbing her eyes she said..
Baat ho gayee armaan??
But wat she heard .. She didn't expect that..
To mera shak sahi tha.. woh armaan hi hain!!
Riddhima looked at the source at once.. blinking for some times her vision got cleared nd she whispered in fear..
BHAI ???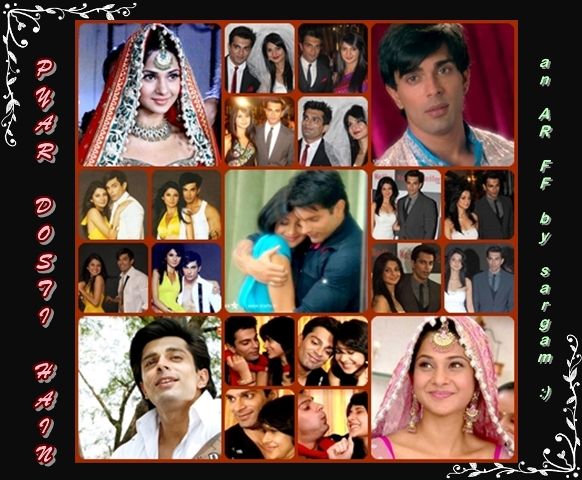 ~ I Can't See U Like This ~
Haan.. tujhe kya laga tha riddhi ke main tujhe doondh nahi paonga??
Riddhima shivered dreading the next.. Plz god .. plzz.. mujhe merey Armaan se door mat karna.. plz bhagwan ji.. i can't live without him.. Her mind was repeating this again n again..
Rishab came near to her...
Shak to mujhe humesha hi tha ke tu uss armaan ko pasand karti hain.. par ye nahi pata tha ke tu apni shadi ke din bhag jayegi.. sab kehte hain ke main acchha bhai nahi hoon.. strict hoon.. par main kehta hoon ke tu acchi behen nahi hain, riddhi.. tujhe apni bhai ki reputation ka zara sa bhi khayal nahi aya... aur aab teri wajah se anjali ki bhi zindegi kharab ho gayee.. aur tu kehti hain tu humse pyaar karti hain??
Rishab said in disgust.. he very well knew that physical torture won't cause that much pain to her that mental turmoil will occur.. he knew how sensitive riddhima is.. nd so, his wicked mind suggested this brilliant plan to torture her mentally.. making her drown in the ocean of guilt... nd he smirked secretly seeing his success..
Anji di ko kya hua hai bhai?? aap bol kyun nahi rahe??
Rishab smiled triumphantly mentally but making a straight face he continued..
Pooch to aisey rahi hai jaisey tujhe koi fark padta hain??
Bhai .. ye aap.. (she said stammering)
Huh.. natak bandh kar tu apni.. tujhe sirf aapni khushi pyaari thi,hain aur humesha rahegi.. aapni bhai ki izzazt ka bina khayal kiye tu bhag gayee.. socha bhi nahi ke iska anjaam kya hoga?? (then taking a brief pause) shadi to honi hi thi riddhi.. tu nahi to anji hi sahi.. par shadi to honi hi thi..
Riddhima froze hearing the unexpected information...
Ye mujhse kya ho gaya?? meri wajah se di ki...
She whispered feeling extreme guilty... All the conversations with anji started peeping in her mind... "Nahi yaar ridzy.. tu choti hain to kya hua .. par mujhe abhi shadi nahi karni.. mujhe to u.s jana hain nd meri fashion boutique ko aur expand karna hain.. tujhe to pata hain ye mera passion hain.. main shadi kar ke abhi apney sapno ko chod nahi sakti.. " Anji's words came in her mind nd her eyes started flowing.. "ridzyyyyyyyyy... i'm so so soooooooo happy yaar.. tujhe pata hain mujhe youngest fashion designer ka award milne wala hain.. i'm sooooooo happy siso... aaj lag raha hain ke main aapney sapno ke bahot kareeb hoon..." all past conversations started disturbing her immensely. her head started spinning due to sudden mental pressure... she only whispered..
I'm sorry di.. i'm ...
she couldn't complete her words as rishab hit again to her sensitive heart...
sorry??? is it enough riddhima?? tujh jaisi selfish behen bhagwan kisi ko na de... arrey main to kehta hoon tujh jaisi behen hone se to........
But riddhima couldn't handle more.. her vision got blurred, her head started beating very badly nd she lost her balance....
JAAN.............
Armaan saw her fainting while coming to her after calling rahul.. as riddhima's back was towards him nd rishab was in 4nt of riddhi, he still didn't watch rishab.. he only saw his jaan loosing her balance.. nd being extreme panicked he ran fast to support her nd prevent her from falling.. His heart skipped seeing his jaan all pale nd tear striken..
Riddhima.. jaan ??
He patted her cheeks so that she doesn't faint... on the other hand riddhima saw a worried armaan through her blurred vision.. nd her eyes started flowing more... she said with gr8 difficulty...
Ar.. maan... woh.. woh.. anji di...
Armaan got confused.. why all of a sudden she is talking about anjali but his confusion cleared when he heard...
To fasa hi liya tumne Rishab malhotra ki behen ko.. i must say gr8 move.. ameer (rich) banne ki bahot acchi short - cut nikali hain tumne??
Armaan looked to the source nd he finally saw rishab.. His anger getting over his calm seeing him hurting his jaan like this nd insulting his love.. He supported riddhima to stand nd entangling his fingers wth hers tightly he answered rishab..
Tumhe jo samajh na hain samjho.. par don't u dare to hurt MY riddhima..
Rishab smiled disgustedly...
My??? woww... itni himmat aa gayi tum me ke tum rishab malhotra ka samna karo??
himmat to humesha hi tha... kuch iss liye nahi kehta tha kyunki riddhi tum se pyaar karti hain... warna...
oh plz.. riddhima aur pyaar?? ussey pyaar ka matlab bhi pata hain?? aaj uski wajah se society mein meri reputation kharab ho sakti thi ... (then looking straight at riddhima) .. sirf teri wajah se anjali ki sapne toot gayee.. tujhe lagta hain woh aab u.s ja payegi?? never.. u destroyed anji's life riddhima.. how selfish u r!!
Armaan felt riddhima trembling nd detangling his hand from hers he held her around her waist more tightly giving her support... Nd furiously said to rishab..
Enough mr. rishab malhotra !! tumhe khud pata hain pyaar kya hota hain?? nd don't u dare to blame MY WIFE.. anjali ki zindegi ussne nahi tumne barbaad ki hain... tumhe kya lagta hain mujhe sach pata nahi.. main nahi janta ke iss marriage ke peeche ki sacchai kya hain?? huh!! anjali ho ya riddhima tumhe kuch farak nahi padta.. tumhe bass malhotra nd raizada industries ki tie-up se matlab hain.. iske liye chahe tumhari aapni behen ki pyaar (looking at riddhi nd then again at rishab) ya fir sapne kyun na barbaad karna padey..
Rishab clutched his teeth in anger.. then looking at riddhima he fired the last bullet...
Tune iske liye mujhe dhoka diya na riddhi?? trust me.. i'll destroy ur armaan.. mujhe pata hain teri zindegi iss (looking disgustedly at armaan) mein hain.. aur jitna dard tujhe khud par chot lagne se mehsoos hogi ussey kayee goona zyada dard tujhe tab hoga jab tu issey (passing another angry look to armaan) dard mein dekhegi... be ready mrs. riddhima mallik.. i'll destroy ur all happiness..
Armman lost his all calm.. he wanted to beat rishab there nd kill him with his own hands nd he tried to detangle riddhima from him but she was holding him with her all might.. armaan looked at her.. He saw only fear in her eyes.. god!! what will he do now?? he knew rishab had successfully destroyed their blissful moment... Now he had to focus on his jaan more than rishab...He saw rishab leaving the temple.. his guards were waiting on the stairs with umbrella.. Finally the storm stopped nd rain has started but did the storm stop actually?? if some one ask armaan he'll say .. no.. finally the storm has started.. It hit his life, his basket, his jaan so badly that he was feeling extremely worried.. He had to throw away the guilt, pain nd fear from her heart.. but how?? He stared at her helplessly...
~ to be continued
With lotsss of love,
Sargam :) :)
P.S - > so, AR are together.. happy every one?? ;) ;)
Thank u every body, love u all :) :) Take care.........
Vote/Rate this Post